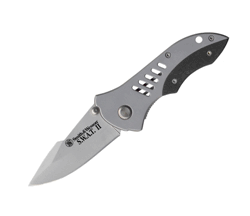 Highest Quality Lock Knife- Lifetime Warranty
The Smith & Wesson® name stands for the highest quality materials and workmanship. The SWAT II series of utility knives have been designed to withstand everyday use. Stainless steel construction with black rubber grips and belt/pocket clip.
3" blade, 4.5" handle
£12.50
SAVE £4.00
Now £8.50!